Mumbai Meri Jaan…
Ai dil hai mushkil jeena yahan..
Zara bach ke, Zara hat key eh hai "Bambai" meri jaan.
A very famous song from a very old hindi flick (C.I.D 1956) makes me wonder if its actually difficult or easy to live in Mumbai.
7 years back when I first landed in Mumbai from Pune for job, I was so very scared of this city. I come from a small town in Punjab and coming to live in a city like Mumbai made me go bonkers. I was wondering all the while if I would be able to adjust in this city, how would I pace myself with the fast world of Mumbai; if I would ever learn to travel in trains and buses (more than travel, will I ever get in?).
Having friends around always helps and since I had come through a batch in Pune who were here for the same company, job and city, it made things a lot easier.
This city has lot to offer for everyone. The people here are very simple and easy going and one word that really describes them well is "Bindaas" (carefree).
I remember my first train journey here in Mumbai and it was no less than a roller coaster ride
J
. I was told that when the train comes, just stand near its door, you wont have to worry about how you are going to get in with such a big mass of people trying to get inside. The pushes and hurry burry of people will automatically let you in. And believe me it worked
J
. The same thing was required to be done to get out of the train when your station comes. It was hilarious (for people like me because it was once a while thing but for people travelling on a daily basis, it becomes a tough routine). I travelled in a ladies compartment and I saw all kind of woman doing all sorts of things.
If you were travelling during the early morning hours, you would see flock of woman singing bhajan and starting their day with prayers and brotherhood. During the evening, you will see woman actually buying vegetables in the train itself and cutting them too. So that when they reach home, they can immediately start cooking for their family. Amazing, isn't it?
There were women who were knitting, shopping (not just vegetables but all sort of clips, accessories, soap, etc). There were other set of woman who had nothing to do, so were quarrelling amongst them (that was probably the first time, I saw woman fighting so openly and even ready to throw each other out of train and that too on a simple thing like, who will sit next to the door). And then there were woman like me who were just sitting and observing them all and were amused at some and were frustrated at others.
That was just one side of Mumbai (which is an important part of course). The other side of Mumbai shows how immune the people of Mumbai have become to all sorts of disturbances that this city faces.
Be it some riots in Dadar, or a bomb blast in a train, or a terrorist attack in South Mumbai, a shootout in open market during daylight or even the floods, it doesn't obstruct the people of Mumbai from their routine.
I wonder if it actually scares them or affects them in any way. A common man, who was back to work in no time after the blasts, was asked if these blasts scare him. He replied saying "I feed my family and me on daily wages that I earn" If I don't go to work any day, my family sleeps without food that day, so irrespective of what has happened, I have to get back to work.
Well it is not just about the common man but its everyone from top to bottom who is seen to go around work soon after any of these things have happened. And not only will they be out on streets back to normalcy but you would also see people coming to help and feed the stayors.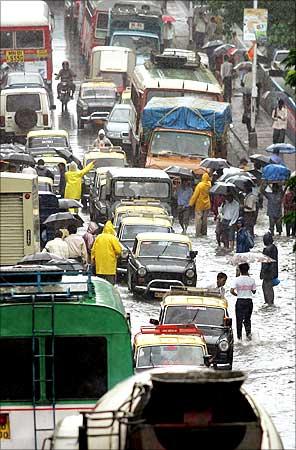 I remember once I was travelling back from work with my husband in our car. The journey that usually takes 1.5 hours of travelling one side took us 4 hours to reach home. While we were on our way, I got a call from my brother-in-law asking if we were well, because the news channels were flashing the train blasts. It was then that we got to know that something has happened in Mumbai and that is the reason for this long journey back home.
Mumbai is a huge city and sometimes you don't even get to know what happens in your neighborhood, forget about the other part of Mumbai. (A classic example, Mr. Dey (the journalist) was killed during daylight in front of a super market, which is like 10 mins walk from my house and we learnt about that on the news only late in the evening).
I had always heard that if you can manage to survive in Mumbai and New York, you could live in any part of the world with ease. And I am happy I have survived in Mumbai. I wont say survived but lived happily here for almost 8 years now. This city will never let you feel lonely or left out because this city never sleeps.
So like the hindi old flick song ends…" ai dil hai aasaan jeena yahaan
suno mister, suno bandhu, yeh hai bambai meri jaan "
:) :) :) :) :)